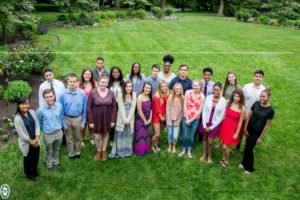 2017 New Recipients at the Merion Tribute House
On Wednesday, May 24, 2017, the Lower Merion Township Scholarship Fund held its 52nd annual New Recipient Reception at the Merion Tribute House.  This year, the LMTSF awarded 106 grants, 28 new and 78 renewals, totaling over $100,000.  In addition to the new scholarship recipients and their families, many of the LMSD administrators were present along with the LMTSF board, honored guests, and donors.
Mrs. Marsha Rosen introduced Mrs. Gloria Lackey, mother of Ms. Bridgett Hull, beloved LMHS Guidance Counselor who passed away last August, gave an inspirational speech about following one's dreams and emphasizing that "anything is possible, " a sentiment that she and her daughter shared.   Tess Weber (LM 17) and Ricky Coleman (HH 17) both gave wonderful speeches highlighting the journeys they have taken as students in the Lower Merion School District and how their experiences within the Lower Merion School District have prepared them as they enter college.  The guests were also entertained by a very talented string quartet from Lower Merion High School during a dessert buffet and then again with a lovely selection of songs from the Harriton High School Chorale.
 More Scenes from the Reception